Call us today on 01538 372 527 or click here to view our contact page.
UKATA Asbestos Training
Our trainers all are experienced asbestos professionals and qualified trainers, giving the balance of a good practical knowledge with excellent teaching skills..
Asbestos Surveys and Services
Using highly experienced, qualified inspectors to complete high quality asbestos inspections of buildings and related services we can effectively offer sound, independent guidance to help you deal with any asbestos issues.
UKATA Training Days
16/5/2012 Staffordshire: Awareness and Non-Licensed
25/7/2012 Merseyside: – Asbestos awareness and Non-licensed work
29/8/2012 Meseyside: - Asbestos awareness and Non-licensed work
BOHS Training Days
16th-20th July 2012 BOHS P405 MANAGEMENT OF ASBESTOS IN BUILDINGS
More dates
Read more
Read more
What's New
28 May,
2012
0
Posted by Brett in Uncategorized
05 May,
2012
1
Posted by admin in Uncategorized
Welcome to our site
Until the beginning of this century, asbestos was a fairly common building material. It is now known that asbestos can be quite damaging to human health. Independent Environmental is able to provide excellent asbestos awareness training that will teach your staff how to properly manage asbestos in buildings. Call on 01538 372 527
UK employers have an obligation under the Health and Safety (First Aid) Regulations 1981 to make adequate and appropriate first aid provision for their workforce. We at Industry Safety Training can help you to make sure that your first aiders feel confident and competent in their life saving skills. Book on one of our life saving first aid courses operating throughout County Durham and the North East.
Industrysafetytraining.co.uk
Early Years Montessori Preschool
3241 Brush Dr
Falls Church
VA
22042
(703) 237-0264
earlyyearsms.com
Early Years Montessori School is a highly recommended Falls Church preschool home to experienced teachers as well as proven Montessori learning and development methods. Montessori is known to be one of the best ways to help young children develop their newly forming education and Early Years is an expert with this. Call (703)-237-0264.
Early Years Montessori Preschool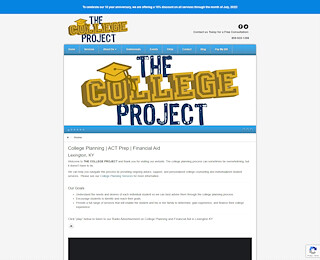 ¬ Please see our College Planning Services for more information. Our Goals Understand the needs and desires of each individual student so we can best advise them through the college planning process. Click "play" below to listen to our Radio Advertisement on College Planning and Financial Aid in Lexington KY.
The College Project LLC
Getting a job in this economy can be difficult without the right help and training. With ShoLove's Employment Training Services, you will be the best trained and most highly prepared applicant. We will separate you by your ability to articulate Who you are, what problems you can solve for an employer We will train you how to create a solid resume describing your value as an individual, your willingness to engage in the process that is required to attain the interview, with our cover letter preparation support and resume preparation. Sholove will provide an overview of your professional accomplishments and emphasize unique traits that set you apart. A quality bio may be the key differentiator in your career networking
Sholove.net