Call us today on 01538 372 527 or click here to view our contact page.
UKATA Asbestos Training
Our trainers all are experienced asbestos professionals and qualified trainers, giving the balance of a good practical knowledge with excellent teaching skills..
Asbestos Surveys and Services
Using highly experienced, qualified inspectors to complete high quality asbestos inspections of buildings and related services we can effectively offer sound, independent guidance to help you deal with any asbestos issues.
UKATA Training Days
16/5/2012 Staffordshire: Awareness and Non-Licensed
25/7/2012 Merseyside: – Asbestos awareness and Non-licensed work
29/8/2012 Meseyside: - Asbestos awareness and Non-licensed work
BOHS Training Days
16th-20th July 2012 BOHS P405 MANAGEMENT OF ASBESTOS IN BUILDINGS
More dates
Read more
Read more
What's New
28 May,
2012
0
Posted by Brett in Uncategorized
05 May,
2012
1
Posted by admin in Uncategorized
Welcome to our site
Until the beginning of this century, asbestos was a fairly common building material. It is now known that asbestos can be quite damaging to human health. Independent Environmental is able to provide excellent asbestos awareness training that will teach your staff how to properly manage asbestos in buildings. Call on 01538 372 527
UK employers have an obligation under the Health and Safety (First Aid) Regulations 1981 to make adequate and appropriate first aid provision for their workforce. We at Industry Safety Training can help you to make sure that your first aiders feel confident and competent in their life saving skills. Book on one of our life saving first aid courses operating throughout County Durham and the North East.
Industrysafetytraining.co.uk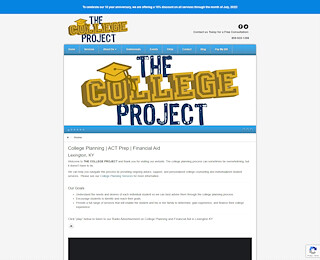 Please see our College Planning Services for more information. Our Goals Understand the needs and desires of each individual student so we can best advise them through the college planning process. Click "play" below to listen to our Radio Advertisement on College Planning and Financial Aid in Lexington KY.
The College Project LLC
If you have been ordered to under a drug or alcohol assessment, please contact The Brooks Clinic without delay. The sooner you do so, the sooner we can get that assessment done and out of the way. We offer ten- and twenty four-hour drug and alcohol assessments. In Lawton, Oklahoma, please dial 580.514.1886.
National Registration Center for Study Abroad (NRCSA)
414.278.0631
nrcsa.com
Immersion language training is known to be one of the fastest and most effective ways to learn a foreign language. NRCSA offers a large selection of classes, courses, and more that use professional immersion techniques to help you quickly learn the language of your choice, for a low price. NRCSA offers many schooling choices; call (414)-278-0631.